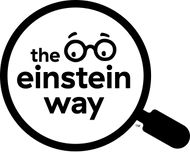 The Einstein Way™
The Einstein Way is a curiosity-driven learning philosophy backed by science and built from the best childhood development research.
Baby Einstein™ Design Principles
The design principles that inform Baby Einstein™ product & content creation include:
Open-Ended Experiences
Open-ended Experiences to invite imagination through free, child-led play. Rather than focusing on a "right" or "wrong" way to engage with a product, each Baby Einstein item is intentionally designed to engage curiosity.
Real-world Learning
Real-world Learning to contextualize concepts. Beloved Baby Einstein characters help introduce children to the world around them through interactive videos, developmentally appropriate toys and more.
Multi-sensorial Engagement
Multi-sensorial Engagement to boost cognitive development. From high-contrast images to help with vision development to tactile items that help with fine motor skills, each Baby Einstein product is created with children's development in mind.
Confidence Development
Confidence Development to reinforce the joy of learning. Feeling a sense of mastery isn't only a boost of confidence — it's also a sign to babies and children that their curiosity is rewarded.
Creative Thinking
Creative Thinking Stimulation to strengthen mental agility. Baby Einstein helps children discover that experimentation and persistence are enjoyable.