by Kids2
Toddlers are constantly on the move. They have an urge to see more, do more, and try new things. For moms and dads, this can be a difficult stage for entertaining little ones!
This is a great time to take advantage of your baby's newfound drive to do things for themselves. You can introduce toys that expose baby to new skills, all while keeping them happy and occupied.
Toys that Baby Can Manipulate
Oball Flex & Stack Balls
The American Academy of Pediatrics (AAP) says toys that can be manipulated, such as shape sorters, stacking blocks, and baby-safe puzzles, are great for a child's fine motor skills and can improve language and brain development.
Introduce baby to stacking with the Oball Flex & Stack Balls—a spin on the traditional stacking toy. These colorful and flexible stacker pieces nest within one another for baby to play around. The pieces are perfectly sized for little hands to grasp, hold and manipulate.
"My kiddo loves these. He can stack them, roll them, or practice finger dexterity by maneuvering them around in his hands. Plus I just stick them in the dishwasher to clean them." — Amazon Customer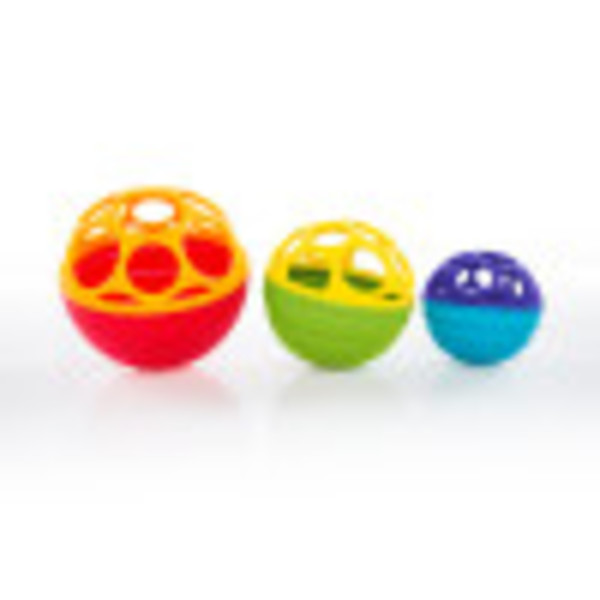 Multi-sensory Toys
Toys for toddlers are often bright, bold, light-up, and musical. That's because at this stage, baby's senses are ripe for stimulation.
Lights, Lights Baby Color Driver
Bright Starts Lights, Lights Baby Color Driver: This fun, brightly colored toy is made for little drivers! Baby can turn the steering wheel to move the odometer, activate blinkers, and hear opposites. It makes fun roaring car sounds, and baby can honk the horn, turn the ignition, adjust the mirror, and rattle the antenna.
Baby Neptune Ocean Orchestra
Baby Einstein Baby Neptune Ocean Orchestra: This playful toy introduces your little one to classical music by letting them explore how instrument sounds are combined to create music. It features colorful dancing lights, and is easy for little ones to activate. There are two modes: Symphony, for younger babies, uses a simple "press-and-listen" approach; Composer, for older babies, allows them to add and remove instruments in the melodies
Baby Einstein Octoplush
Baby Einstein Octoplush: This fun animal toy is not just soft and cuddly. It's a multi-textured pal that introduces baby to colors. By squeezing each leg, your little toddler will hear the corresponding color in English, Spanish, or French. A simple squeeze or a hug will play fun melodies. There is also a volume control — a great feature for a weary parent!
A Toy Bin Staple
A ball is a staple for every toy bin. Balls are also a great way to expose your toddler to new skills. "Cognitively, infants and toddlers learn about the properties of balls: They bounce, roll down hills, are easy to move and difficult to keep still," says Francis Wardle PhD, for Scholastic's Early Childhood Today. Balls are great for play at home, and can be tossed in the diaper bag for on-the-go fun.
Wobble Bobble Ball
Wobble Bobble Ball: This toy is made with unique textures for baby to hold on tight, taking a slightly different approach to the traditional ball toy. It rolls in many directions for baby to chase, helping to encourage the development of motor skills.
Rollin' Rainstick™ Rattle
Rollin' Rainstick™ Rattle: A rattle and a ball in one, this toy is made with Oball technology so it's easy for baby to grasp and hold. The multiple colors and playful raindrop sounds are fun for baby to shake up without making too much of a ruckus.
Return to Need2Know Home